How about an elegant wirefree, easy-to-size blue nursing bra? If so, how about the beautiful Cake Chantilly Nursing Bralette in blue? We think you should find it easy to get the right size as it also offers you an ample cup-stretch which has been designed to accommodate a fluctuating bust.

So, what about the construction of this nursing bralette? It features a stunning wide, lace underband and also has a stretch French inspired lace galloon – it is a lovely design. It has a feminine plunge neckline and also offers you an easy feed thanks to the drop-down cups.

You should also get nice support and shape thanks to the side-sling support. This nursing bra has a sheer microfibre stretch mesh lining which should also make it very comfortable. It features crochet knitted straps.

Not sure what size would be right for you? Well, the following should help you pick the right size:

- S Petite fits bra sizes 32 B, C and D
- M Petite fits bra sizes 34 B,C and D
- L Petite fits bra sizes 36 B,C and D
- XL Petite fits bra sizes 38 B, C and D
- S Busty fits bra sizes 32 DD, E and F
- M Busty fits bra sizes 34 DD, E and F
- L Busty fits bra sizes 36 DD, E and F
- XL Busty fits bra sizes 38 DD, E and F

So why might you choose the Cake Chantilly Blue Nursing Bra? We think it looks lovely. It should be easy for you to pick the right size, and you should also find it comfortable and supportive as well.

We want to make sure you know exactly what the bra is like so you are not surprised when it arrives, so here are some quick questions and answers from us studying the bra… out of the packet….in depth.

Is this bra underwired? No.

Does this bra have a "modesty panel" that covers the top of your breasts (i.e when the cups are open does it have material to help make it more discreet behind the cups? This is also called an "A-Frame nursing bra". No…see the image below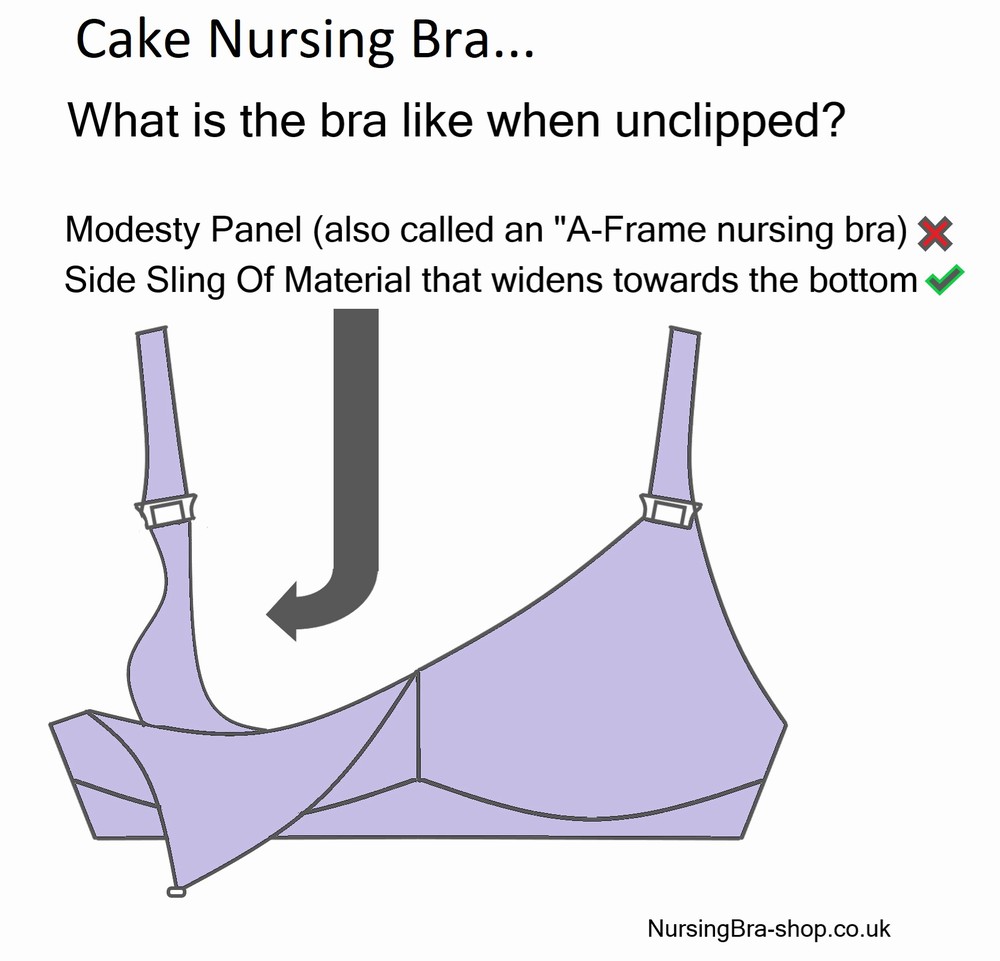 Is this bra padded?
No
Does it have a pre-formed or moulded cups?
No
How smooth is the material on the OUTSIDE of the bra?
Not smooth as it is lacy
How stretchy is the fabric on the cups?
This one has quite stretchy cups
Does the bra have removable foam inserts in the cups?
No
Would it be suitable as a T-shirt nursing bra?
Not really
Would it be suitable as a Sleep nursing bra?
Not really
Does this bra have an option to buy matching briefs?
No
How to verify the Nursing Bra Shop....
"I have never heard of the Nursing Bra Shop....how can I find out what the service is like?"
Simple - ask any online mums forums you are on if anyone has used us. We always
STRONGLY URGE
you to check on us in any Facebook breastfeeding groups or other maternity or mums groups such as Mumsnet etc. Maybe ask if anyone has ever used the Nursing Bra Shop? What was our service like?
Here are some places to ask questions about the Nursing Bra Shop:
Facebook breastfeeding groups
Mumsnet
Online Bounty Groups
Netmums
But please ask the question in any forums. 89% Of UK mothers have never heard of the Nursing Bra Shop. Asking forums is a good way of checking on us. Don't take our word for it....ask other mothers who may have used us!
How much does delivery cost?
Delivery is free in the UK, and £1 anywhere else in the world.

How long does delivery take?
If you place your order before 4pm on a working day (Monday to Friday), in most cases your order will be despatched by Royal Mail 48 Hour Service, so you should get it within 1 to 2 working days! If you place your order on a Saturday, Sunday or Bank Holiday, we usually despatch the next working day, so again, you should get it the day after this.

I am based abroad – how long does delivery take?
In Europe, you should get your goods within five days, and outside Europe, you should get then within eight days.

For more info please click here.
We offer No Quibble UK returns, and you have 120 days to send the items back to us. Please see our returns page for full details.