If you are looking for a really supportive black breastfeeding bra, how about the popular Jasmine 469 from Royce Lingerie? It is perfect for the fuller-busted mother, as it goes from an F cup up to an L Cup.

One of our best selling nursing bras, the Jasmine nursing bra has some superb features that we think you will really love. For example, getting the right fit is easy thanks to the fact that it has 4 eye adjustments and a strap adjuster towards the front of the bra.

As with all nursing bras from Royce Lingerie, this bra is wirefree and it also has a drop cup opening. When you actually come to feed your baby you will be pleased at how easy the bra is to open with just one hand – meaning you can carry your baby with the other arm.

You will feel really feminine with this breastfeeding bra as it has some pretty details such as elegant satin and lace trim. You will be pleased to know this bra can be washed at 40 degrees and the material includes a 3-piece cotton jersey.

So why should you choose the 469 Jasmine nursing bra? Well, it will give you brilliant support, is really pretty and has been one of our best selling nursing bras for years. A really good choice.

We want to make sure you know exactly what the bra is like so you are not surprised when it arrives, so here are some quick questions and answers from us studying the bra, out of the packet, in depth.

Is this bra underwired? No

Does this bra have a "modesty panel" that covers the top of your breasts (i.e when the cups are open does it have material to help make it more discreet behind the cups? This is also called an "A-Frame nursing bra". No

What is the "side sling" like? A straight strip of stretchy material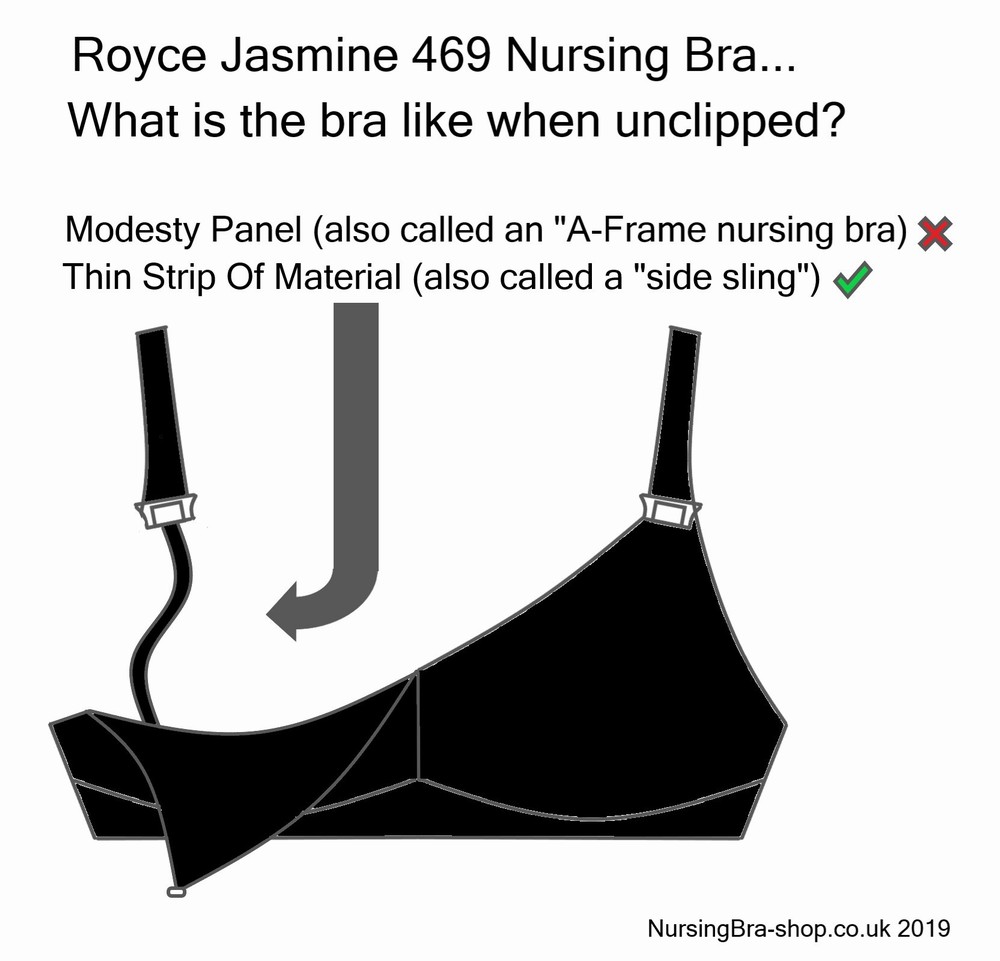 Is this bra padded?
No
Does it have a pre-formed or molded cups?
No
How smooth is the material on the OUTSIDE of the bra?
Smooth in places, lacy in other places
How stretchy is the fabric on the cups?
Not very
Does the bra have removable foam inserts in the cups?
No
Would it be suitable as a T-shirt nursing bra?
No
Would it be suitable as a Sleep nursing bra?
Not really
Does this bra have an option to buy matching briefs?
No
Unlike the rest of our Royce nursing bras, the Jasmine 469 Bra sizing works slightly different to most of our bras. Specifically, there are no double cup sizes to this bra. So here is how to pick the right UK size for you...

F cup in Jasmine 469 is F Cup in UK size
G cup in Jasmine 469 is FF Cup in UK size
H cup in Jasmine 469 is G Cup in UK size
J cup in Jasmine 469 is GG Cup in UK size
K cup in Jasmine 469 is H Cup in UK size
L cup in Jasmine 469 is HH Cup in UK size

So, for example, if you would normally wear a 34GG bra in other bras, we suggest you pick an Jasmine 469 in size 34J. This is specific only to this bra and all the other Royce bras have a normal UK sizing system.

MATERIAL THICKNESS OF CUPS:
We try to rate how thick the cups are of each bra, so you are not surprised by this when the bra turns up! We rate this out of 5, so 1/5 is thin cups, 5 out of 5 is thick. We would rate the thickness of the cups of the cups of this bra as 3 out of 5. Medium thickness.