Are you looking for something bright and colourful? Why not try the Ivory/Candy Pink Sophie Nursing bra from Panache? We think you'll love it, and with sizes available up to a J cup, there are plenty to choose from.

How about the cups of this bra? The cups have a soft jersey fabric lining and a side sling design to support you when you feed. The full cups drop away when you release the one-handed maternity clips on the straps, allowing you to hold your baby and undo your bra at the same time; a very useful feature! The bright pink of the lining is contrasted with the delicate ivory lace outer cup, and the cups are made in three parts, without padding, to support and shape you. The material has a slight stretch, and may not be as supportive as Panache's usual bras. If you take a bigger cup size, this is something you may want to consider, especially if you have already tried a Panache bra.

How adjustable is the fit? With adjustable shoulder straps and six hook and eye positions on the back fastening, you can alter this bra to fit you as you need. There are either two or three hook fastenings, depending on the size of the cup; D-G cups have two, and GG-J cups have three, to give more support at the back.

The straps match the ivory lace, and the contrast pink and ivory bow between the cups ties the design together. The back is designed to reduce the chance of the straps slipping. The band beneath the cups has lacy trimmings and is elasticated, to support you without the need for underwires. As experts believe that wearing a bra with underwires may contribute to the development of mastitis, this Panache bra is a great alternative.

We would recommend hand washing this Panache bra to keep it in the best condition. If this colour is too bright for you, this bra is also available in Black/Nude as well.

So why do we think you should buy this Ivory/Candy Pink Sophie Nursing bra? This beautiful bra is very pretty, but still has all the useful features a nursing mum could want!

We want to make sure you know exactly what the bra is like so you are not surprised when it arrives, so here are some quick questions and answers from us studying the bra, out of the packet, in depth.

Is this bra underwired? No

Does this bra have a "modesty panel" that covers the top of your breasts (i.e when the cups are open does it have material to help make it more discreet behind the cups? This is also called an "A-Frame nursing bra". No it has a side sling of material

What is the "side sling" like? A piece of material which we think is quite stretchy and goes under the breast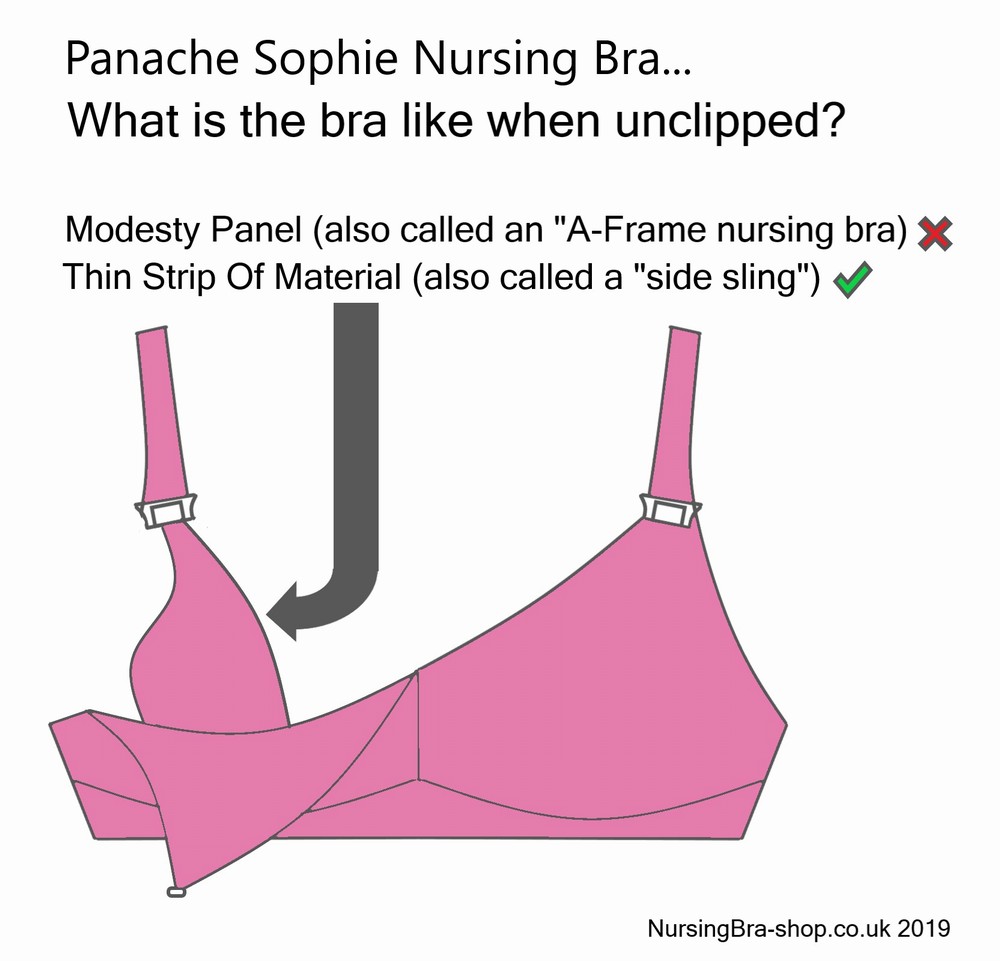 Is this bra padded?
No
Does it have a pre-formed or molded cups?
No
How smooth is the material on the OUTSIDE of the bra?
It is textured as it is lacy
How stretchy is the fabric on the cups?
It has a small amount of "stretchiness"!
Does the bra have removable foam inserts in the cups?
No
Would it be suitable as a T-shirt nursing bra?
No because the material is lacy
Would it be suitable as a Sleep nursing bra?
Not really
Does this bra have an option to buy matching briefs?
Yes see the panel below called "Other Customers Liked"
How to verify the Nursing Bra Shop....
"I have never heard of the Nursing Bra Shop....how can I find out what the service is like?"
Simple - ask any online mums forums you are on if anyone has used us. We always
STRONGLY URGE
you to check on us in any Facebook breastfeeding groups or other maternity or mums groups such as Mumsnet etc. Maybe ask if anyone has ever used the Nursing Bra Shop? What was our service like?
Here are some places to ask questions about the Nursing Bra Shop:
- Facebook breastfeeding groups
- Mumsnet
- Online Bounty Groups
- Netmums
But please ask the question in any forums. 89% Of UK mothers have never heard of the Nursing Bra Shop. Asking forums is a good way of checking on us. Don't take our word for it....ask other mothers who may have used us!
MATERIAL THICKNESS OF CUPS:
We try to rate how thick the cups are of each bra, so you are not surprised by this when the bra turns up! We rate this out of 5, so 1/5 is thin cups, 5 out of 5 is thick. We would rate the thickness of the cups of the cups of this bra as 3 out of 5.

WIDTH OF BRA STRAPS
How wide are the straps of this nursing bra? We measured a D cup bra and it came out as 15mm (compare this to one of your own bras to see how wide this feels). The straps then rise to a width of 17mm once you get to an E cup and above. So from D-DD, it is 15mm, then from E and above it is 17mm.