Here at Nursing Bra shop, we know how important it is to feel comfortable in your bra. This is Cake Lingerie's Grey Cotton Candy Maternity and Nursing bra, which has been designed with comfort in mind! It is made of silky soft material, without seams or tags that could irritate sensitive skin, and flexible sizing means that it should be comfortable for longer.

How about the structure of the bra? It has a crop top design with an internal support and strength panels designed to maximise lift and support. The cups are moulded fabric without seams or tags, which means that this bra offers a smooth silhouette under your clothes but will be soft and comfortable to wear.

The material itself is soft memory stretch fabric, which will mould to offer you the best fit possible. There are four sizes available in this bra; Small, Medium, Large and Extra Large. Because of this, the sizing is more flexible, and we believe this bra will fit you comfortably for a much longer period of time, making it great value for money! This is really useful as this bra can be worn during your pregnancy, (especially in the first trimester) after the birth of your baby, and as a sleep bra. Please see below for the table to help you choose the right size bra for you...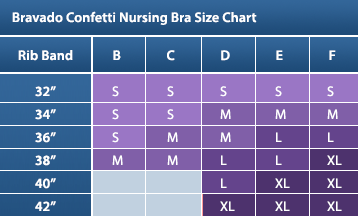 How practical is this bra? The back is built like that of a sports bra to give you support, so is unsuitable for wearing under strappy tops. It is fastened with a hook and eye. There are one handed maternity clips on the straps, allowing you to feed your baby discreetly with the side sling design of the cups. This bra can be machine washed at 30 degrees, making it even more useful!

So why do we like this Grey Cotton Candy Luxury Seamless Maternity and Nursing Bra from Cake Lingerie? We believe that it is a brilliant staple from an award-winning brand (Cake Lingerie was voted UK Maternity Brand of the Year in 2011). We love the flexibility of this bra, with the fit adjusting to suit you and the ability to wear it during and after your pregnancy, and even at night!
MATERIAL THICKNESS OF CUPS:
We try to rate how thick the cups are of each bra, so you are not surprised by this when the bra turns up! We rate this out of 5, so 1/5 is thin cups, 5 out of 5 is thick. We would rate the thickness of the cups of the cups of this bra as 3 out of 5. Medium thickness.