If you are searching for a white, comfortable nursing bra, then we highly recommend the Bravado Body Silk Seamless nursing bra in white. We think it will give you a lovely shape thanks to the moulded foam cups. You should also find this nursing bra really supportive too!

This bra is designed to "melt" onto your body which makes it look and feel lovely. It also have removable foam cups - so you then have the option of thicker cups if you want them!

So how does this bra work? Well, it has buttery soft fabric which melts onto your body and should give you a remarkably comfortable fit. You should also find that it is virtually invisible under clothing.

When you drop the cups, they will give your baby skin-to-skin access as recommended by health professionals. It is also wire-free, which is considered the best option by breastfeeding advisers.


You may be pleased to know that it is also suitable as a pre-natal bra, which means you get longer life and better value for money from it.

Not sure which size breastfeeding bra to pick? Then we always recommend this bra as it has only five sizes (small, medium, large, extra large and Extra-Extra Large) which means you will be choosing a bra that will gently grow and contract as your body changes in the early stages of your motherhood. Please see the chart below to help you pick the right size: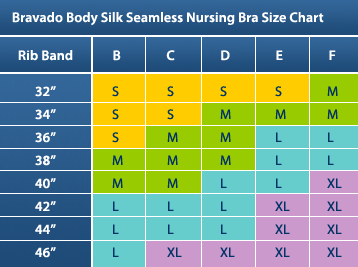 If you are still not sure about which size to pick, we can explain further. Basically;

The Small Size is for 32B, 32C, 32D, 32E, 34B, 34C and 36B

The Medium Size is ideal for 32F, 34D, 34E, 34F, 36C, 36D, 38B, 38C, 38D, 40B and 40C

The Large Size covers 36E, 36F, 38E, 38F, 40D, 40E, 42B, 42C, 42D, 44B, 44C, 44D and 46B

The Extra Large Size fits 40F, 42E, 42F, 44E, 44F, 46C, 46D, 46E and 46F

The EXTRA-EXTRA Large Size covers 40G, 42G, 44G and 46G

When it comes to actually feeding your baby then you will love how easy it is to open and close the bra with just one hand thanks to the easy-to-open nursing clips.

Would you like a choice of colours? Well this bra several colours (see below for these options) and as the sizing is so flexible, it makes a perfect gift as well!

Why do we recommend the White Bravado Body Silk Seamless nursing bra? Simple! Our customers love it and it has quickly become our best-selling bra. You will find it really comfortable and it will give you a lovely shape too!
MATERIAL THICKNESS OF CUPS:
We try to rate how thick the cups are of each bra, so you are not surprised by this when the bra turns up! We rate this out of 5, so 1/5 is thin cups, 5 out of 5 is thick. We would rate the thickness of the cups of the cups of this bra as 3 out of 5. Medium thickness.

WIDTH OF BRA STRAPS
How wide are the straps of this nursing bra? We measured a Small, Medium and Large cup bra and it came out as 15mm (compare this to one of your own bras to see how wide this feels). The straps then rise to a width of 19mm once you get to an Extra Large and XXL. So from S-L, it is 15mm, then from XL and above it is 19mm. Each strap has the same length, all the way along. So it does not change as you get nearer the shoulder.