Introducing the Bravado Original Dove Heather Nursing bra. Designed for sizes 32-46 B-D, this Bravado Basic Nursing Bra can we worn both in the months before you give birth and, of course, during your nursing months.

Not sure which size nursing bra you need? Then this may be a super choice for you. With this bra, you would either pick Small, Medium, Large or Extra Large. So, rather than picking, for example, a 36c, you might pick a Medium. This means it is much easier to get your size right first time. It also means that, as your size changes, the bra should remain really comfortable. Not sure which size is right for you? Please see the table below! If you are a cup size bigger than a D-Cup then you may need the full-cup version of this bra.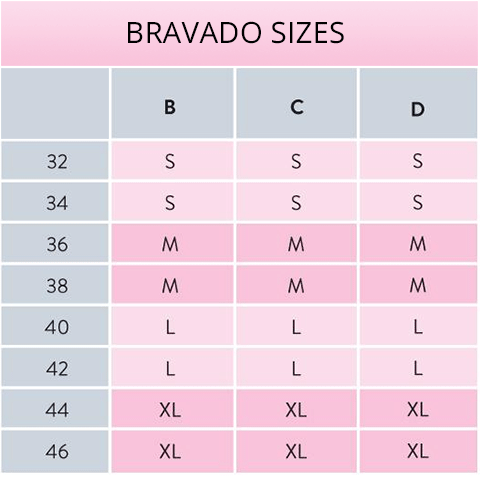 We have been selling this nursing bra since 2007 and we recommend it very highly!

This nursing bra has also been designed to reduce the risk of Mastitis. It stretches and contracts to fit your breasts without becoming too tight if you are engorged.

What about the design of this nursing bra? The Original Basic bra has a distinct cross over cup design. It also features a sports-style back. This will give you upper-middle back support and will hold the shoulder straps in place – even while you are feeding!

The cups fully drop away from your breast when you feed your baby. This means that you and your baby get full skin-to-skin contact, as recommended by breastfeeding advisors. It is also easier to get a really comfortable fit thanks to the adjustable shoulder straps.

You may be pleased to know that this bra is also perfect as a sleep nursing bra. This means you can have a comfy nursing bra on throughout the night!

Why do our customers love the Bravado Basic nursing bra? It should offer you a lovely fit, it will help prevent mastitis and you can also wear it during the night! What's more, it is very supportive. We recommend this bra highly!

MATERIAL THICKNESS OF CUPS:
We try to rate how thick the cups are of each bra, so you are not surprised by this when the bra turns up! We rate this out of 5, so 1/5 is thin cups, 5 out of 5 is thick. We would rate the thickness of the cups of the cups of this bra as 3 out of 5. Medium thickness.

WIDTH OF BRA STRAPS
How wide are the straps of this nursing bra? We measured all of the sizes, and it remained consistent at 15mm. This width of 15mm remained the same the whole length of the bra strap. So, it does not get wider nearer the shoulder, but remains at 15mm the length of each strap. To see how this feels, have a measure of one of your existing bras that you have at home.