If comfort is important to you then we recommend the Bravado Body Silk Seamless nursing bra. Our best selling breastfeeding bra, it will give you a lovely shape thanks to the moulded foam cups. You will also really like the support this breastfeeding bra will give you as well.

This is the Latte colour of this bra. It is also available in black, ivory, white blush, pink ice, silver belle and butterscotch. Please see our Bravado section if you want to choose one of these options.

The seamless nursing bra is designed to melt onto your body which makes it look and feel great. This bra also comes with removable foam cups which will give you the option of thicker cups if you want them. This also adds to the versatility of this bra, as it means you can, if you want, hide nipples or breast pads.

You can also wear this nursing bra in the weeks and months before you give birth.

If you are not sure what size to pick for your nursing bra, then this could be a really good choice for you. Rather than having to pick, for example, 38E, you would choose from either Small, Medium, Large, Extra-Large or Extra-Extra Large. To find out which size you should be, please see the table below!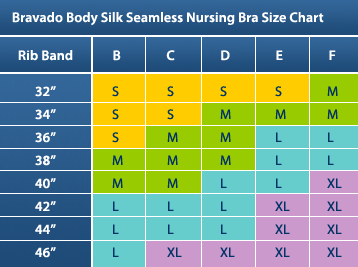 Basically;

Small is for 32B, 32C, 32D, 32E, 34B, 34C and 36B

The Medium covers 32F, 34D, 34E, 34F, 36C, 36D, 38B, 38C, 38D, 40B and 40C

Large is for 36E, 36F, 38E, 38F, 40D, 40E, 42B, 42C, 42D, 44B, 44C, 44D and 46B

The Extra Large Size is for the following sizes 40F, 42E, 42F, 44E, 44F, 46C, 46D, 46E and 46F

Finally EXTRA-EXTRA Large Size covers 40G, 42G, 44G and 46G

Why is this one of our best selling nursing bras? Well, we think you will find it incredibly comfortable. It should also be really supportive and it should be easy to pick the right size! A super choice!
MATERIAL THICKNESS OF CUPS:
We try to rate how thick the cups are of each bra, so you are not surprised by this when the bra turns up! We rate this out of 5, so 1/5 is thin cups, 5 out of 5 is thick. We would rate the thickness of the cups of the cups of this bra as 3 out of 5. Medium thickness.

WIDTH OF BRA STRAPS
How wide are the straps of this nursing bra? We measured a Small, Medium and Large cup bra and it came out as 15mm (compare this to one of your own bras to see how wide this feels). The straps then rise to a width of 19mm once you get to an Extra Large and XXL. So from S-L, it is 15mm, then from XL and above it is 19mm. Each strap has the same length, all the way along. So it does not change as you get nearer the shoulder.